April is Autism Awareness month, and the romance reading community is celebrating!
1 in 68 children is diagnosed with Autism every year, making it the fastest growing and one of the most prevalent developmental disabilities. Authors Ginger Scott and Kennedy Ryan have organized a MegaGiveaway called LIFT featuring more than 50 authors to raise awareness and acceptance! Each Monday in April, a new rafflecopter will go live, loaded with e-books, audio books, swag packs, signed paperbacks and gift cards from these amazing authors doing their part to LIFT4Autism. (scroll down for this week's rafflecopter!)
And there's LIFTWear – 4 styles to choose from! All proceeds from the LIFT t-shirts will go to a national autism organization. Order t-shirts HERE until MONDAY, APRIL 13!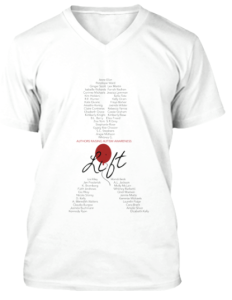 Good luck and #LIFTOff!
Thank you for visiting  The Official Kate Givans Website! 
For more excerpts, exclusive giveaways, special deals, and news on upcoming books, Join Kate's Book Club. Just for signing up, I'll send you a free digital copy of Imprisoned, a Kate's Book Club exclusive!
If you'd rather just stalk me for a little while, I won't mind. Come find me on Facebook or Twitter and say hello! I'd love to hear from you. And, as always, feel free to comment, link, tweet, or share if you like what you've read here.
Post Footer automatically generated by Add Post Footer Plugin for wordpress.